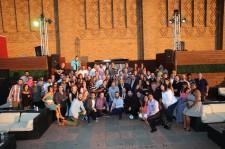 Selected for the second year running, Wireless Vision's "Work Hard, Play Hard" spirit is truly on display.
BLOOMFIELD HILLS, Mich., August 5, 2019 (Newswire.com) - Wireless Vision, LLC  has been recognized for the 2nd consecutive time by​ Crain's Detroit ​2019 Cool Places to Work in Michigan.
Saber Ammori, CEO said "Being named a Detroit Cool Places To Work for a second year running means a lot to myself and my partners. We are Detroiters, our headquarters is here along with 33 of our T-Mobile Stores. It's a big deal to us and our employees, I could not be more proud."
WV's core values are a huge part of success; Passion for our People, Best in Class, Stay Humble-Love the Hustle, & Work Hard-Play Hard. "Our culture is our best asset, and we work hard to build happy, successful teams. We take care of our people, because to us, they're family," said Saber Ammori, CEO of Wireless Vision.
Here are just a few reasons why WV is the place to be:
 Great Benefits:
·        WV offers tons of great benefits, including 401K match and generous paid time off. Pair that with abundant advancement opportunities and you've got the perfect place to build a career.
·          Rewarding, well paid and competitive commission structure.
·        The Vision Club program is Wireless Vision's annual Reward & Recognition program for the sales organization. The program recognizes both commissioned (Sales) and non-commissioned employees (Nominated) based on leaderboard metrics to compare performance against peers while living the Wireless Vision values.
Our Employee On-Boarding Program:
·        Leadership Academy is an opportunity for every newly hired and promoted field leader to travel to our Corporate Office in Bloomfield Hills, MI and engage with everyone up to the Executive level.
About Wireless Vision
Wireless Vision LLC is a family-owned business established in 2004 and based in Bloomfield Hills, Michigan. Wireless Vision now operates over 650 T-Mobile locations in 26 states across the U.S. They have experienced tremendous growth in the last couple of years with acquisitions and organic growth. The company's leadership team credits its success to providing customers with the best sales and service in the industry. Wireless Vision is equally dedicated to cultivating and caring for both existing and acquired employees and has been regularly voted Top Place to Work.
For more information, please visit WirelessVision.com.
About Cool Places to Work in Michigan Program
Companies from across the state entered the two-part process to determine the Cool Places to Work in Michigan. The first part consisted of evaluating each nominated company's workplace policies, practices, and demographics. This part of the process was worth approximately 25% of the total evaluation. The second part consisted of an employee survey to measure the employee experience. This part of the process was worth approximately 75% of the total evaluation. The combined scores determined the top companies and the final rankings. Best Companies Group managed the overall registration and survey process in Michigan and also analyzed the data and used their expertise to determine the final rankings.
For more information on the Cool Places to Work in Michigan program, visit http://www.CoolPlacestoWorkMI.com
Source: Wireless Vision
Share: