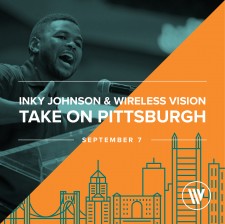 Event
-
updated: Sep 5, 2018
Allderdice 9th & 10th grade students will be surprised with new backpacks and a $2,500 school donation by Wireless Vision. Students will also benefit from hearing about Inky's journey and the raw energy of his charismatic speaking. Whether the topic is leadership, teamwork, or perseverance, Inky inspires his audiences to embrace the challenges of life. #GetInkSpired
***Media Alert***
Event Date: Friday, September 7th | Time: 8.am.
Wireless Vision to host motivational speaker Inky Johnson at Allderdice High School
Wireless Vision will donate 1,000 backpacks and $2,500 donation to Allderdice High School, Get Ink-Spired.
 What:               T-Mobile, Operated by Wireless Vision in Pittsburgh, PA, will host motivational speaker Inky Johnson along with donating 1,000 backpacks and a $2,500 donation to Allderdice High School. Wireless Vision's Got Your Back (WVGYB) Initiative is WV's Social Responsibility Program that began in 2012. They have worked alongside organizations such as Huddle Up, Hands on Network, Operation Food Search, Feeding America, One Warm Coat Foundation, St. Baldrick's Foundation, Susan G. Komen, Life Remodeled and many more. For more information, please visit wirelessvision.com                     
Why:                "Giving back is part of who we are. One of our core values is 'Passion for our People' and that doesn't stay within our store walls," says Saber Ammori, CEO of T-Mobile Operated by Wireless Vision. "We are passionate about our employees, customers, and our communities.
Inky is a great motivational speaker that has the ability to connect with the younger generation just by sharing his story. The students of Allderdice will have an opportunity to listen to a great leader and athlete who suffered an injury during a college football game which left him with paralysis in his right arm. He used the experience to advocate for the disabled and write the autobiographical book Inky: An Amazing Story of Faith and Perseverance
Students will also benefit from hearing about Inky's journey and the raw energy of his charismatic speaking. Whether the topic is leadership, teamwork, or perseverance, Inky inspires his audiences to embrace the challenges of life.​  #GetInkSpired www.inkyjohnson.com
When:              Friday, September 7th
                          Event will start at 8 a.m.                                                                       
Who:                Inky Johnson, Wireless Vision Employees, Allderdice 9th and 10th graders, faculty
Contact:          Vanessa Hanna, vhanna@wirelessvision.com, 248-763-3328
Day of Event:   Brett Kennedy; 630-888-9498, bkennedy@wirelessvision.com
                            James McCoy, 412-529-4829, jmccoy1@pghschools.org
###